Here are some frequently asked questions we thought may be helpful
What is the best way to care for my tree?
Help your tree take up more water
You can do this by sawing off the bottom 2 cm from the base of the trunk. We can do this at the time of sale if required. This will remove any build-up of sap at the bottom, which can prevent water absorption.
Keep outside until required
If you do not need your tree in the house straight away keep it in a shaded spot outside and stand it in a bucket of water until the last possible moment.
Keep the Tree Cool
Keep your tree away from heat and draughts. For example, do not place it near a doorway, by a radiator or an open fire. Also use low-heat fairy lights and always turn the lights off at night.
Buy a good stand
Like any other plant it is vital your Christmas tree has a constant supply of water. It will need at least a litre per day in order to maintain it's freshness & appearance over the festive period. Please see our stands section for details.
How do we grow our Christmas Trees?
We buy premium plants from a reputable nursery. These have already been growing for 3-4 years depending on the variety. Usually this means 2 years as seedlings in controlled conditions then 2 years as transplants outside.
When we get them they are planted out by hand, either in the spring or autumn, to give them the best chance of getting their roots down and establishing themselves while the weather is mild.
Each tree needs regular care and attention during the year. This means mowing and strimming between the rows to keep the weeds down, spraying when necessary, fertilising to keep a good balance of nutrients in the soil and pruning to achieve the best shape.
When they are ready to sell we carefully harvest them, put them in a protective net and get them to our customers as quickly as possible.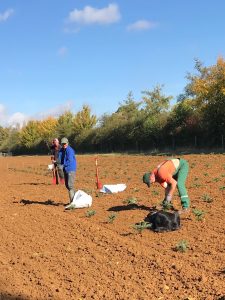 Why buy from a BCTGA Member?
All members are asked to comply with a code of practice so that British Christmas Trees are grown to the best environmental and sustainable standards. Members aim to grow quality Christmas trees that with the appropriate care, provide pleasure and enjoyment throughout the festive season.